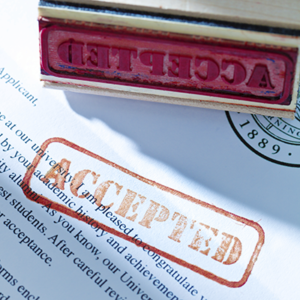 At Knavigators we tailor our approach to the needs of each student and their family, the college applications management is unique from client to client.
Fill in the Gaps – Some of our clients elect to work with Knavigators on only select parts of their college application. They turn to us in order to fill in gaps that arise in their own preparation.
Navigate Milestones – Many work with us intermittently to help navigate KEY milestones during junior and senior years.
Every Step of the Way – Others begin as early as the 9th grade and find they are best served by working with us throughout high school – until the acceptance letters arrive.
We begin with what YOUR student requires.
Aspects of Application Management?
There are certain common threads that run through most of experience with us and parents regularly rely on Knavigators to:
Work with students to establish a realistic schedule for staying on top of application details and deadlines.
Review application elements and engage the student in the planning process..
Outline a comprehensive, custom checklist for the student in order to successfully manage applications and timelines.
Remain in contact with the student throughout the application process.
Be the attentive, persistent, even strict voice of reason required to keep things moving forward – on or ahead of schedule.
Review applications to make sure they are complete, sincere and unique.
Check in with student to make certain all related documents were successfully uploaded to the school
We Take Stress Out of the Process
This level of input, guidance and accountability from a non-biased third party, takes the pressure off the parent/child relationship. We minimize stress and reduce anxiety for students and parents. Rather than arguments about meeting deadlines for college applications you become partners in a great adventure. Knavigators steps in as intermediary, coach and "heavy" when needed – so you don't have to.
We make it possible for you and your child to enjoy the application process together.
Online research into colleges becomes interesting, campus tours become fun and exciting.
Deadlines become an opportunity to practice success.
Stand-out applications and essays are completed with ease.
Where to Start?
Some clients rely on a comprehensive personalized package which includes all services. Others select specific services to fill gaps or gain support in research, planning or application oversight. Still others prefer to schedule a meeting during the early days of high school in order to make strategic choices toward merit scholarships or acceptance at a certain schools. You can even leverage Knavigators for "check-ins" during Freshman and Sophomore years at college to make smooth out any bumps in the road of higher education.
Knavigators is happy to tailor its services to your needs. It all starts with a conversation about how you see us serving your needs. From there we will gladly discuss programs, pricing and a schedule that works for you and your child. Of course meeting face to face, or via skype group call, will help you make a final determination. This has to be a great fit for everyone involved.
Drop us an email via our Contact Page or give us a call at 408-340-0021.
It's time to remove the stress and actually ENJOY  this experience with your child!